Private cloud / virtualization
Modern and flexible solution that reduces costs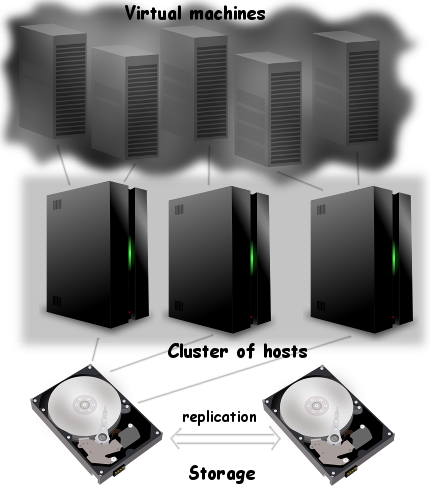 Enjoy the benefits of clout - build your own cloud
Virtualization and the cloud service model have changed infrastructure approach significantly. Lowering costs, much better scalability, simplification of infrastructure building are only the most important features.
The known saying in IT world "good, quick, cheap: choose two of them" can be rephrased for the cloud: "reliability, guaranteed resources, cheap: choose two of them". A detailed analysis of cloud offers reveals the truth: high reliability and guaranteed resources cost much, it might be way above the cost of dedicated servers.
There is nothing against building your own, private cloud - most of the providers, including the top ones use Open Source solutions, for example the XEN virtualization.
We offer building a private cloud infrastructure using a rented or owned servers that meet some basic requirements. Key features of this solution:
XEN - mature, Open Source virtualization used by many providers like Amazon EC2.
100% resources guarantee - the servers are fully controlled by you and you are controlling the resources. We know they are not shared by some other customer.
Flexibility in resource allocation without stopping the service. XEN allows to reallocate many kinds of resources like RAM or CPU without a restart of the virtual machine.
No single point of failure - virtual machines can be easily moved to another server after a hardware failure.
No downtime due to hardware maintenance thanks to live migration of virtual machines with virtually no interruption.